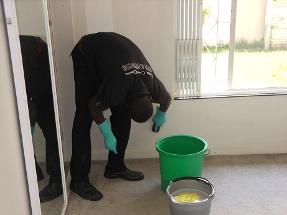 Johannesburg South


Carpet
Cleaning
Tel: 011 048 7506
Mobile: 081 507 4352
Today we bring the industrial strength equipment used to clean heavy foot traffic areas in offices and warehouses straight to your home for the most effective cleaning you've ever seen on your carpets!
Our Supreme Cleaning method is guaranteed to clean any carpet.

After Cleaning Tips for Carpet Care:
Please refrain from walking on the wet Carpets and using wet furniture / mattresses
Please remember that your feet can be slippery when walking from damp carpet onto hard surfaces or down stairs

Drying time ranges from 3 – 8 hours depending on the cleaning method used, temperature, humidity, type and density of the fabric or carpet.
Ventilation is very import, please leave windows open and use fans if available
Please refrain from using heaters as this will assist mould growth
Please refrain from covering the carpets with anything (towels/boxes)
Our Carpet Cleaners in the South cover the following Areas:
Alberton | Alrode | Brackenhurst | Brackendowns | Bezuidenhout Valley| Mondeor | Mulbarton | Nasrec | Ormonde | Rosentenville | Ridgeway | Robertsham | Southgate | South hills | Wadeville | Walkerville | Winchesterhills