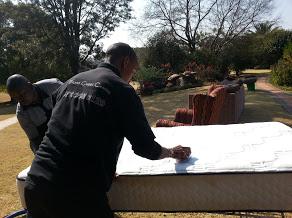 Pretoria North Carpet Cleaners
Tel: 011 026 8408
Mobile: 081 507 4352
Two of the most important and expensive investments in your home is your carpet and your mattress. Yet the Mattress is often the most neglected item in our homes when it comes to cleaning.
We spend an average of 8 hours a day on the bed sleeping, which equates to 1/3 of our lifetime. While we are sleeping, we are also shedding dead skin cells. If these skin cells are not removed, the weight of the mattress can double over ten years.
Dust mites feed off dead skin cells, making your mattress the perfect breeding ground. This can cause an allergic reaction in asthmatics and some people are allergic to their feces. If you are sleeping on a mattress that isn't adequately and regularly cleaned, you are creating an environment that encourages ill- health.
In order to maintain a healthy home, regular mattress cleaning needs to be prioritized.
We recommend having your mattress deep cleaned at least once a year. People who suffer from asthma, eczema and other allergies will benefit greatly from having their mattresses cleaned more regularly.
Protect against Dust Mites and Dirt between Professional Cleaning :
Use a mattress cover

Vacuum mattresses regularly, we recommend at least once a month on both sides

Wash bedding regularly

Air the mattress out regularly by placing it in the sun for a few hours

Clean headboards and night stands

Vacuum carpet regularly

Clean windows

Vacuum / clean drapes

Dust the room

Keep dirty laundry contained to one area
Perform carpet, upholstery and mattress cleaning every 6 - 12 months
We clean in the following areas:
Akasie | Amandasig | Annlinn | Claremont | Montana | Mountainview | Pretoria Gardens | Rosslyn | Sinoville | The Orchards | Waverley