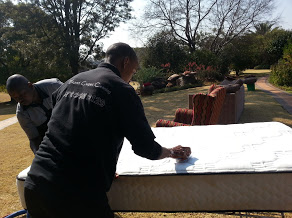 Johannesburg Carpet Cleaners
Tel: 011 048 7506
Mobile: 081 507 4352
Email: er@expertcarpetcleaning.co.za
We clean it all, Carpets, Upholstery, Rugs, Mattresses, Windows, Showers and more.

House Dust mites and where they live.
The Dust mites prime habitat is your bed, they can also be found in bedroom carpeting and household upholstery. Autumn and winter months we close up our houses and the concentrations of dust mites and their feces increase inside our home. In the spring, pollen aggravates allergies and dust mite infestations makes it worse.
We spend an average of 8 hours a day on the bed sleeping, which equates to 1/3 of our lifetime, so it is very important to maintain good indoor air quality in the bedroom. The main reason for steam cleaning your mattress is the health benefits. People who suffer from asthma, eczema and other allergies will benefit greatly. A clean mattress also promotes a better night's sleep.
We clean in the following areas:
Westdean | Ormonde | Parktown | Greenside | Brixton | Booysens | Westcliff | Hillbrow | Auckland park | Mellville | Turfontein | Braamfontein | Observatory | Selby | City Deep | Triomf